About Us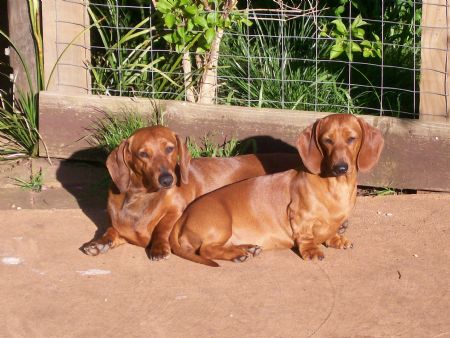 Brenda Howell- began in dachshunds in 1972 and registered the Kamahi prefix in 1974. I began with a miniature smooth from Dartlowe kennels and then later a standard smooth bitch from the same breeder. This bitch was sired by Ch, Romalo Wringleader who was behind a lot of the top winning dogs of the time including Ch. Millewa Monarch.
The first litter bred by Kamahi in 1975, produced Ch Kamahi Kerri an in group, in show, and Royal Challenge winner.
Other successful dogs over the years have been Ch. Kamahi Krackerjack, Ch. Kamahi Bridget, Ch. Kamahi Sweet Charity, Ch. Kamahi Kolby, Ch. Kamahi Missionary Man. Ch. Kamahi Kristine won Royal Melbourne bitch challenge from the junior class and then went to western Australia where she was one of the top winning smooths.
American Grand Ch Kamahi Klass Act - No.1 smooth dachshund in 2008 and 2009 and No. 6 hound 2008 and 2009 in Hawaii.
Ch. Kamahi Amelia Jane, who featured on the front cover of the VCA calendar, 2007, was a favourite, both for her conformation and temperament.
In miniatures Ch. Kamahi Alice and Ch. Kamahi Mistified stand out as both were in group and in show winners.
Katrina Brooks- began in dachshunds in 1991 and registered the Emmiline prefix in 1992. I began with a miniature smooth bred by Brenda, Ch. Kamahi Alice. Alice was my most successful miniature with, in group/ in show wins.
I bred my first litter of miniatures in 1993.
As well as miniature smooths, I had an interest in the standard smooth and purchased my first standard from Brenda in 1997.
My standard smooth Grand Ch. Emmiline Mulvane Madness, which Brenda, her daughter Meaghan or myself currently show, is my most successful smooth to date. Best In Show / Runner Up In Show/ Classes in show at all breeds and speciality shows.
Other successful dogs from Emmiline have been Ch. Emmiline She's Got A Way, Ch. Emmiline The Pretender, the sisters Ch. Emmiline Lil Lotte and Ch. Emmiline Klarissa, Ch. Emmiline Witchita Wind, (Mulvane Madness' litter sister), Ch. Emmiline Seventh Wonder and his sister Ch. Emmiline Everywhere. These dogs have all had in group / in show awards.
Our young girls, Ch. Emmiline Gold Dust Woman, Ch. Emmiline Sunkissed and Emmiline Eclipse, out of Ch. Emmiline Golden Rush and by American Dual Champion Jagies Sunkissed Phoenix, are having success in the ring. Emmiline Gold Dust Woman finished off 2011 by gaining her Australian Championship title.
Contact Details
Katrina Brooks
Warrion, VIC, Australia
Phone : 52348224
Email :
[email protected]